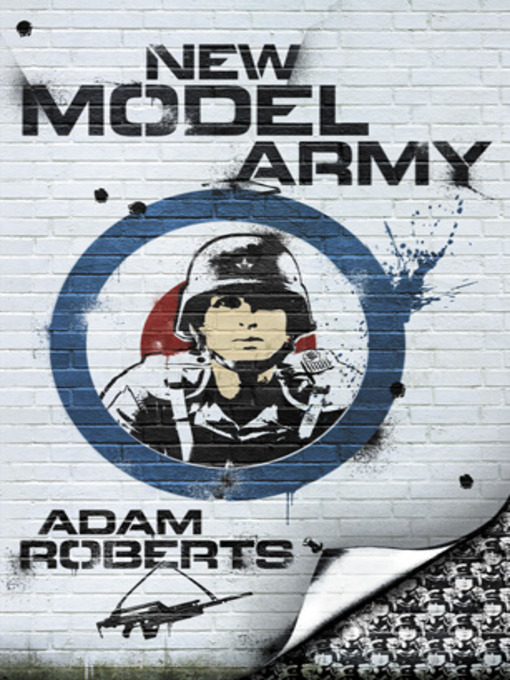 New Model Army, by Adam Roberts, takes an interesting look at the function of warfare and society with the question: What if a hierarchical military, such as ones set up along the lines of the British or U.S. Armies, and pitted it against an army that was fully democratic in its organization?
The concept is an interesting one, and the book as a whole is a perfect example of something that I've wanted to see in the subgenre: a world in which the military itself is examined, not only in the tactical side of things, but also in its ideology. Roberts puts forth an interesting idea that blends together the changing states of technology and warfare: militaries have adopted a new organizational structure: rather than the strict chain of command that defines the military lifestyle, they have brought together a large group of people, connected them through secure wikis and use the power of the crowd to fight. Tactical decisions are voted upon, and each soldier updates the battlefield map with the needed information: where they are, where the enemy is, and so forth.
The concept is one that is already in the earliest stages of implementation in the real-world battlefield, on a couple of levels. With the advances in technology, military leaders have been able to reduce the 'fog of war', the so-called elements of the battlefield, where commanders can't see what's happening, and are forced to rely on planning extensively. As the abilities of the military to watch the battlefield increases, from cameras mounted on soldiers to drones flying overhead, major changes have been seen, both in the leadership and organizational structure of the military, but also in how tactics are put forth.
Indeed, the connection between the ability to wage war and the relative ease to which technology is available has already begun some major changes. In 2008, insurgents entered the city of Mumbai, armed with cell phones and the internet, and were able to coordinate their attacks, using Google Earth to help plan the attack. Other examples of similar uses have been used across the various conflicts around the world. As the world becomes more connected, it's far easier to coordinate attacks with individuals across country borders and continents.
New Model Army, while it puts forward an interesting story on the military, there's a number of things that make the story a bit more implausible, technology advances aside. Currently, the United States and her allies are into their ninth year of waging a counter-insurgency battle in the Middle East, one that will likely leave lasting impressions on the organizations of all involved, and are lessons that would not be easily forgotten. As such, the New Model Armies (NMAs) are essentially a form of insurgency warfare that seem to plague the regular British military wherever they confront them, inflicting heavy losses and forcing surrenders at several battles. For a nation that's largely been involved with counterinsurgency warfare for longer than the US (if one can consider the problems in Ireland), it seems strange that they would be unable to counter said forces, not to mention not adopting some of the methods in and of themselves. The successes of the NMAs seem to come from the ineptitude of the British military. Political motivations or opinions notwithstanding, it are a situation that annoyed me as I read the book.
The British NMA, soldiers were instilled with a sense that a pure form of democracy, and carried such an air of superiority amongst them that I can't help but thing that their role was satirical, at least at points. It's not until into around two thirds of the book that the main character is confronted with any sort of counter-point to his philosophy that democracies are inherently better than any other form of self governance.
When it comes to military powers, democracy is something that really doesn't exist, and for good reason: the style of warfare that has evolved over the course of human history ultimately relies on a large presence of soldiers, acting in concert, to achieve a goal that's determined by someone higher up in the chain of command. The ability to work together as a unit is a key element for the battlefield, and discipline is drilled into soldiers early on. The evolution of uniforms and mass-produced weapons helped to support this. The outsider viewpoint of a the military as a close-knit group of people follow orders, are yelled at and depersonalized (The term G.I. means General Infantry), is somewhat accurate, but the full meaning and reasons behind this type of training needs to be taken into consideration. The role of the soldier is to fulfill national priorities: in this case, by force, and essentially, they are willing tools of what is determined needed to be done.
Looking at a group such as a New Model Army, it's hard to imagine that a force composed of individuals, with a bottom-up organizational method would be as successful in the real world: individuals might be disciplined, but military actions require the coordinated efforts of a group to accomplish their goals: hence the depersonalizing training to get people to not run away from being shot at. Similarly, in the NMA, people hold no rank, nor do they carry any sort of specialization, which in and of itself causes issues. Militaries are groups of specialists, whether it be in a certain weapons system, as medics or as leaders, and I don't believe that the simple availability of information through the cloud can replace an individual trained and specializing in something as important as lifesaving. (I know I wouldn't want a surgeon trained from Wikipedia in heart surgery). Militaries are likewise structured (when they work properly) with individuals skilled in leadership and planning are promoted, and are able to recognize, carry out and accomplish their goals.
Furthermore, military actions recruit more than just tactical (on the battlefield) planning to accomplish their goals: there is far more long term planning when it comes to carrying out national goals, which in turn, inform the tactical requirements of a battlefield. Once again, in a crowd sourcing environment, I don't see that this would be an effective style of fighting. People in a large group might have their own goals, methods of fighting that run counter to national goals. In the book, the NMA uses a nuclear 'bullet', a sized down nuclear warhead that surprises everyone. Similar actions exist in real life: groups such as Freedom Watch or the Minuteman Project, which advocates or utilize force outside of national interests and policy. Undoubtedly, said crowd groups would utilize similar behavior in their actions, especially in a war zone. A U.S. Officer who captures the story's main character makes such a point, noting that while his British NMA is a good example of where this sort of thing works, there's other groups that are essentially mobs.
Insurgencies around the world utilize social networking and crowd sourcing elements right now, and in all likelihood, there will be moves towards this future that Roberts has predicted. However, as they do so, their opponents will do what the militaries in this book haven't done: adapt to the new styles of fighting, and find ways to counter them, but also understand how and why such measures are being put into place.
While there are real issues with the style of fighting in the book, Roberts has done what I've really yet to see another Military Science Fiction writer do with the genre: look at how people fight, and how things might work. This is a military science fiction book that goes beyond the action; it goes straight to the heart of how militaries function, speculative in and of itself. I see the fighting that occurs in the book as an afterthought, used to support the real character elements that go into the story, and as such, New Model Army is an interesting, fascinating book that annoyed me thought out, but it frequently made me stop and think about how such a thing might actually work in reality. Because of this, this book stands out from a lot of other miltiary science fiction stories.
One thing is for sure though, if there is a rise in this sort of style of fighting, it will be a very bad thing for all of us.