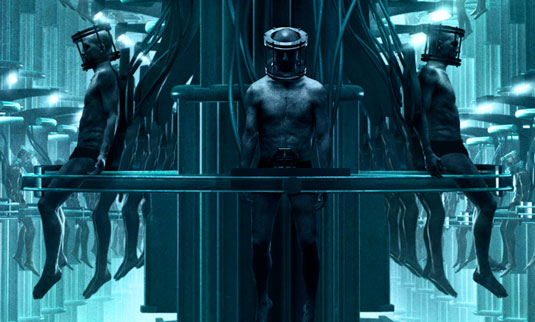 In a world with sparkling vampires and an abrupt popularization of the genre, the 2010 film Daybreakers comes as a welcome addition to the genre, blending science fiction, dystopian thriller and vampire lore into a neat, exciting film that had a sensible story with a great visual sense. The most interesting thing is that it's really not about vampires at all: it's about oil.
In 2009, an epidemic raged across the world, killing almost everyone and turning them into vampires. There are no new innovations here: the vampires avoid sunlight, wooden stakes cause them to explode in a bloody mess, and, of course, they drink blood. By 2019, society moves along like it always did, just during the nighttime hours. Ethan Hawke portrays Edward Dalton (hopefully better than the other vampire Edward...), a sort of vegetarian vampire who lives off of pig blood, who works for Bromley Marks, a pharmaceutical company looking to make a replacement for the rapidly dwindling supply of human blood. Dalton comes across a member of a human resistance movement, who knows about his work, and brings him together with someone who had cured himself of the aliment.
Daybreakers is remarkably well thought out, from the story to the background elements. Happily, the film takes much of the traditional vampire lore and shifts it into the future, holding onto only what is strictly necessary, and adapting everything else to what the story requires. Cars are fitted with shades and external cameras, sidewalks are moved underground, soldiers wear protective clothing, and houses have alerts for their owners to know when there's a risk of sunlight. Everybody is immortal, and it seems like it could be a very good life.
What really works well in this film is the attention to detail, on a story, visual and background level: the film doesn't feel like, nor is it, fluff. There's a good amount of attention to the story, which moves along briskly, with quite a bit of action, encompassing a number of elements, all along with a really striking visual sense that helps the film really stand out from most of its compatriots. Particularly striking was the lighting, with dim grays and blues for a lot of the vampire scenes, but also bright and solid yellows for the humans, creating a sort of unconscious divide between the characters and their respective storylines when they showed up. This has been done to great effect in other films, such as Pan's Labyrinth and the television show Firefly.
The main problem that faces vampire society is that there is a critical shortage of human blood. Humans, only numbering around 5% of their original population, or around 342 million, have been captured in massive blood banks for the likely population of 6 billion vampires. As the human population declines, the vampires transform into is a horribly mutated one that looks a bit like an oversized, insane bat (a subsider), which an entire populate is at risk of transforming into, and understandably, there is quite a lot of panic in the streets, and the very problem that Dalton and the Bromley Marks company is trying to avoid. Dalton comes across problems as he comes up against corporate interests, who are only interested in the status quo, with the ability to sell pure human blood to the highest bidders, while keeping their form, as opposed to the complete reversal of the condition that everybody is afflicted with.
This conflict is at the center of the film, and at the heart of it, it's really not about Vampires, but it's about the modern world's complete dependence upon oil. Oil, which helps hold the world together as we have become increasingly globalized, is a resource that will eventually run out, and will leave much of the world in a state of decline, due to short sighted business interests who only are interested in pleasing shareholders. The same holds true in the film, and given that there was a decade of vampirism on earth, it seems somewhat astonishing that they would have completely squandered their lifeblood (literally) until you realize that that's exactly what is being done at the moment, with any number of things. The film gets a good message throughout the film, fulfilling some important aspects of what the genre should be doing for its audience.
Ultimately, the environmental storyline is the strongest component in the film. There are good attempts at a personal story and some work towards the characters, but ultimately, after watching the film, it feels like there was a lot missing: tantalizing hints, such as Dalton's transformation and his subsequent relationship with his brother are largely left up in the air, as well as a couple of similar storylines that involve some of the other characters in the film (Sam Neill's character, Charles Bromley, and his daughter, for example), all add to a fascinating background and world that has been constructed for this story, and at points, it feels like there is elements or scenes that are missing that would really flesh out the film, such as the introduction of a vampire senator who harbors human sympathies. The film would have been further strengthened to better sort these out, and it's certainly possible that a director's or special cut would rectify this sort of thing.
Ultimately, Daybreakers isn't totally sure of what it should be: character or political drama with the coverings of a genre film, or something else. As it stands now, the film is a very good one, covering much ground and providing a nice addition to a fairly crowded speculative fiction genre. The film holds a good message, and has all of the right elements going for it, making it a really good, worthwhile film to buy, but it falls just short of being a really fantastic, must see watch.