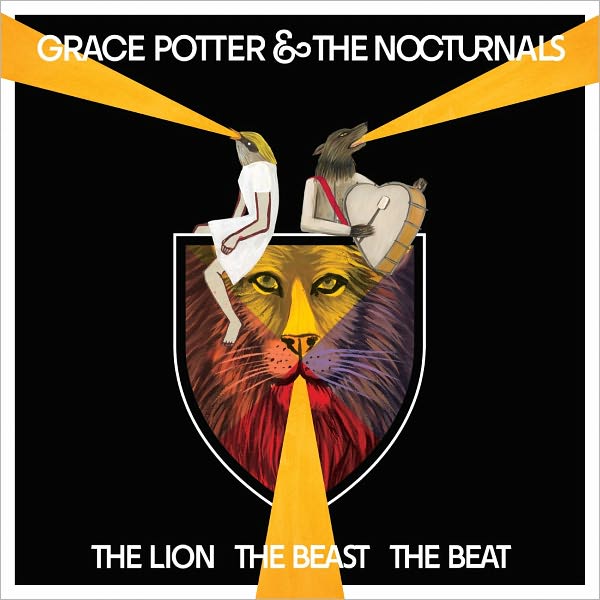 Grace Potter and the Nocturnals are a band on the upswing. Enormously popular in Vermont from their first album, it's been quite something to have seen a band go from playing small gigs around town to major venues across the country. With their latest album, The Lion The Beast The Beat now out, the band is reaching new heights.
The group's self-titled 'debut' landed two years ago, which came after three prior albums (two independantly produced - Original Soul and Nothing But Water - and their first under a major record label, This Is Somewhere), and was a mixed affair. The production was great, but the album was lacking some of that energy and whimsey that really made heads turn. This latest album still has the major record label fingerprints but they've delivered a superb album that captures Grace's fantastic voice much better. It's a strong album, and bodes well for their future.
In a way, The Lion the Beast the Beat is Grace personified. All of her albums have felt deeply personal, but this one makes the jump over to the singer as a literal mechanical component: a vinyl record. Turntable is a sexually charged number that puts Grace spinning around a record player, while Never Goes Back brings in the idea that a person's life can be scratched just like a record can be.
There's a lot to love in this album with a lot of variety. Title track, The Lion the Beast the Beat perfectly mirror the energy that you'll see at one of their live shows, while Never Goes Back feels much like a throwback to the 1980s and Stars shows out her country influences nicely. There's others still, like Loneliest Soul that are just strange and very different from her usual sound, but very fun to listen to. At the center of it all is Grace Potter and her fantastic voice, which runs up and down the register effortlessly.
There's a little big of everything on The Lion The Beast The Beat, and the entire album feels like it's moved from the safe territory that their last album seemed to drift to. Potter's music has always felt like it's a bit on the edge, and it's nice to see them back to having a bit of fun.