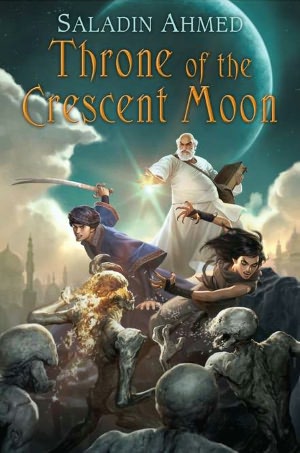 Saladin Ahmed's debut novel, Throne of the Crescent Moon has been getting a lot of attention since its release earlier this year. It's a fantastic novel, right out of the gate, gripping and engaging, but it's also been getting quite a bit of attention for its location. Epic fantasy set in a recognizable Middle East - inspired world; it's a far cry from the pseudo-Middle-Ages-European settings that most worlds seem to inhabit.
For all of the hand-wringing lately about how little innovation there is in the fantasy world when it comes to actual world building, Ahmed's story is a nice change of pace; not because an author has bowed to public pressure and recognized that they can break out of the pack, but because he's been writing about this for a while now.
Throne of the Crescent Moon isn't all that notable within the fantasy genre because it's set somewhere besides Europe: it's notable because it's an incredibly strong, character-driven narrative. It's the first fantasy novel that I've read in a while where all of the characters really work to own their destiny, and that *they*, not some long forgotten prophesy has guided their actions to make them realize who they really are. It's a refreshing change of pace.
The line of storytelling that has been troubled me lately is the prophetic style of fantasy, and it's one reason why I tend to favor more science fiction-flavored stories in general, which tends to avoid it. Far too often, character lives have been pre-determined, with the central focus revolving around the character realizing their inherent importance or internal strengths. Far more interesting to me is when the characters move the plot forward on their own, with their own actions helping or hindering them. Thankfully, this is largely what I've found over the course of reading Throne of the Crescent Moon with its three central characters: Doctor Adoulla Makhslood, a ghul hundter of Dhamsawaat, Raseed bas Raseed, Adoulla's assistant, and Zamia Badawi, the shapeshifting protector of her band. The trio is deeply and at times, broadly flawed, but as the novel progresses, there's an increasing recognition of this, and growth to overcome it.
A murder triggers the opening of the novel, as a powerful dark presence rises around the city of Dhamswaat, draws in the elder Doctor and his young, naïve assistant, and the young protector together amidst the backdrop of political revolution and corruption in the city. Following the trail of the gruesome murders, the unlikely band comes across a much greater conspiracy that threatens their whole world.
The plot isn't terribly original, but Ahmed's richly textured world more than makes up for it. The streets of Dhamsawatt in particular are a delight to read. Vividly written, the city and characters are captured in their entirety. Defined by their flaws, each character essentially works to overcome some of their learned nature (or, it's clear that some of them already have), presenting a nice ensemble of characters that felt very real to me.
Ahmed's writing is the last main pillar of the novel, and Throne of the Crescent Moon is a deftly written story that pulls the reader along effortlessly. His prose is crisp, detailed and allowed me to burn through the book in just a couple of sittings, something that feels like an ever-rarer joy to do. The book is a short read, but ultimately a satisfying novel, one that has left me awaiting more installments of Ahmed's fascinating world. He's certainly an author worth checking out and watching for the future.