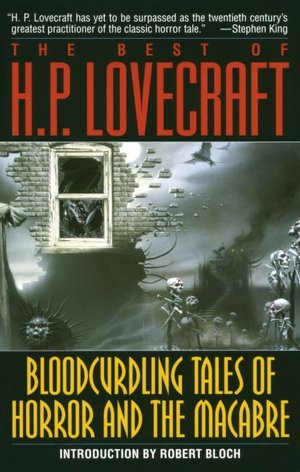 With October a traditionally - horror themed month capped with Halloween, it seemed appropriate to follow up Bram Stoker and Dracula with another notable horror author: H.P. Lovecraft. Hugely influential in the horror genre, Lovecraft is an author that I got into while in college, with a course on Gothic Literature. I've found Lovecraft's stories to be delightfully macabre, and living in Vermont, I can identify with his love of the sheer age of the location, and can see just why this corner of the country is so suited for horror fiction.
Read up on H.P. Lovecraft and the Other over on Kirkus Reviews.
Sources Used:
The Best of H.P. Lovecraft: Bloodcurdling Tales of Horror and the Macabre, introduced by Robert Bloch: This collection of Lovecraft's stories is one that I've had since college, when I was first introduced to his works. Robert Bloch has a particularly good, if apologetic introduction to the man, laying out his life and some of the motivations behind his fiction.
Lovecraft - Tales, edited by Peter Straub: This tome from the Library of America Collection is an impressive book, not only for the stories that have been collected, but for a very comprehensive timeline in the back of the book (Philip K. Dick's own collections featured very similar reference material), which was particularly invaluable as an overview for Lovecraft's life.
Lovecraft: A Biography, by L. Sprauge de Camp: de Camp is someone that I would like to examine at some point in his own right, but for the time begin, his biography is eminently readable and extremely detailed, providing quite a bit of insight into his life and works.
Survey of Modern Fantasy Literature, vol. 4, Frank Magill: This volume provides a great overview of Lovecraft's short fiction career, rather than an individual book. In this instance, the survey focuses on Lovecraft's Cthulhu works.