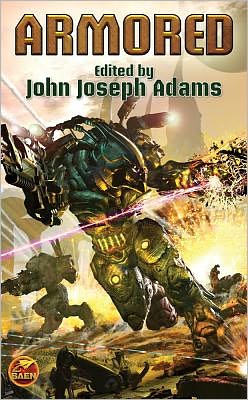 Tomorrow, John Joseph Adam's latest original anthology, Armored, hits stores. I'm pretty excited for this one, because I've read most of it already. Last year, the book was announced, and I got to help out a bit with some of the behind the scenes work in getting the book up and running: slush reading, some recommendations, and thoughts that I had about the stories that I read.
This anthology really blew me away. There's a stunning cast of authors present here, each of them with some really great stories about characters in powered armor - or the powered armor itself. What I really liked above all else is that there's a real mix of unconventional takes on the power armor idea, and this anthology might surprise readers a bit: it's not all pure action (although there's plenty of that), and there's more than just straight up military sci fi here: there's a couple of genres mixed in here.
You can buy Armored here, take a look at some of the behind the scenes stuff over on John's website, and like the page over on Facebook. If you like power armor and some great military SF, this is the anthology to buy.