Throughout my day, there's a variety of websites that I check out religiously, or at the very least, pretty often, either for amusement or general reference. Some just once a day to once a week or so for news and what have you, others more often as they're updated throughout the day. The Hype Machine
This site is a fun one. I've been going to it for over a year now, and have my own blog listed on it. The Hype Machine is a godsend for music fans - it tracks and posts content on its front page from thousands of music blogs around the world. Oftentimes, you can find obscure covers, duets, through to the current popular songs. The music that filters through tends to be more towards the indie-rock / rock spectrum, but everything is represented at some point.
Print newspapers are the way to go. Because I don't subscribe because of expense and the vast number of newspapers that would build up quickly at my apartment, I check in at the NYT a couple of times a day. They update throughout the day, and it's generally a good place to get news. I also am a big fan of their arts section, and I generally agree with their movie reviews.
Wired is a fun magazine to page through, and their website is one that I've just added to my list of places to visit and check up on, because it gets a lot of fantastic interviews, reviews and news of all sorts.
When it comes to pictures, you can't get better than flickr. It's easy to use, very open and versitile. You can tag pictures with locations, search based on just about anything, create profiles and keep an eye on people that you know, as well as keep an eye on pictures that catch your eye by marking them as favorites.
Actually, I prefer independent bookstores over all others. BUT, when it comes to the internet, Amazon.com is a powerhouse of buying things. Customer reviews, cover images, a very, very good used section and just about everything that you'd ever want is literally at your fingertips when it comes to books, movies and music (that's my use of it anyway). I got a text book for a penny once. And, they're fast.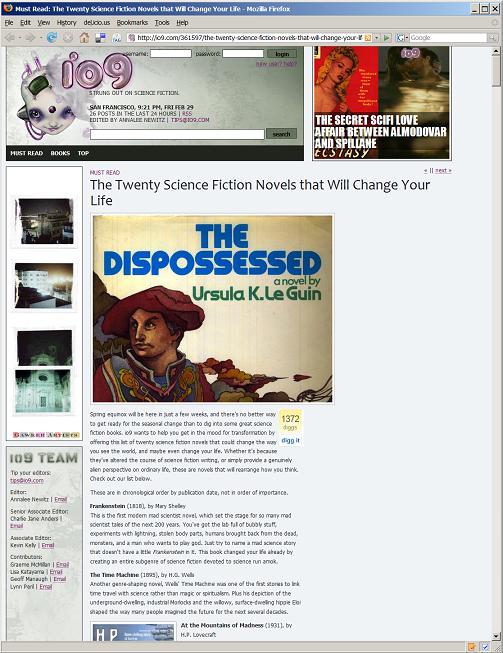 I came across this site several months ago, and check it religously. Interesting articles, lots of up-to-date information on all sorts of interesting geek things when it comes to books, movies, music and culture. Commentators are screened out, so there's none of this IMDB bullshit that goes on with their forums. I've come across so many interesting things here, this is a fantastic place to visit.
Okay, I'm a bit of a facebook junkie. I've found it to be a very good way to keep in touch with a lot of people, former classmates, 501st members from around the globe, camp friends, things like that, not to mention a fun way to see what people are up to. Granted, there's always the concern about security and how much information you should be putting up on the internet, but if you're careful (and I think this is a far better place than myspace), you'll be fine.
I used blogger for years, and was convinced to come over to do Wordpress from a couple of friends recently. Overall, I like it far better. Easier to use and manage, much better looking and all around more impressive than my prior platform. Manages comments really well, allows you to host your own pictures, allows for rather seamless intigration of media into posts. My only complaint is that the post section is too narrow.
This comes as habit from my dad, but I've always found Intellicast to be the best source for weather forecasting, aside from Eye in the Sky, on NPR. I generally check in when I'm planning something outside.
The SciFi channel's website. It's a good source for information about their programs, but I mainly go there for their SciFiWire, which has 10 or so big stories from the genre's news over the day, as well as some interviews and other content. Plus, they have SciFi's shows online.
Youtube is addicting. There's too much crap, too many kids with guitars pretending that they can sing, but oh, the possibilities for amusement, catching news broadcasts or speeches, TV clips or entire episodes, etc, are endless.
As an academic-wannabe, I can't stand Wikipedia. There's far too much potential for someone to mess with information, and I've seen too many students liberally copying passages from it to trust or really like its influence on how information is gathered - people really need to learn to go to regular sources, like books. Remember those?
However, Wikipedia is a really, really handy reference for quick information. Like Cape Verde, halite, Valeriy Polyakov, or anything else you want to know. Superficial information? Great! More detailed stuff - not so much, although often, it'll tell you where to find it. And, despite the obvious drawbacks of user-uploadead information, it's usually correct stuff that goes up, or at least, corrected quickly.
Okay, not a website really, but as a platform for listening to music, it's wonderful. There's a lot that I listen to, and it's one of the first things that I fire up in the morning. Plus, it's a great way to listen to news, I've found, as I subscribe to a number of podcasts, such as the BBC, NPR, NYTimes and a couple others to listen to the news while I work.
Google/Gmail/Calendar/Maps/Everything else
And what would this list be without Google and gmail? GMail is fantastic, great e-mail provider, although google can be really scary at times, especially when it comes to censoring information in China or something like that, it's the best way to find things online. Period.
And yes, I do work. Checking all of these takes about 15-20 minutes over the entire day, usually during a break. Or running in the background.